Introducing Sami Moisio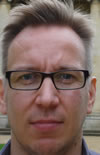 Dr Sami Moisio (1973, Oulu) currently works as Senior Research Fellow of the Academy of Finland. He holds an MA and PhD in Geography of the University of Turku, Finland.
His specialisations include politial geography, regional politics, European integration and methodology and theory of human geography.
Geopolitical Passport
My relationship with geopolitics
At what age did you discover geopolitics and what attracted you to it?
I got interested in geopolitics in 1995 when I was in Sheffield, UK as an undergraduate exchange student. It seemed to be a vibrant field although it was not very fashionable in Finnish geography at that time (things have changed).
Which geopolitical topics have your focus and why did you choose especially these?
At a very general level, I have been interested in the interlinkages between spatial formations, societal processes and political struggle. I wrote my PhD on the political struggle over the Finnish membership in the EU which opened my eyes to how strongly politics, elites, power and geographical space were entangled.
What do you consider your most important contribution to geopolitics?
I have not published anything particularly important. However, I hope that some of my current research is valuable also for other scholars of geopolitics.
My geopolitical preferences
What is your favourite definition of geopolitics?
As a believer of critical scholarship, I do not like any totalising definitions. Everyone should find their own definition with which they feel comfortable with when they conduct research.
Which geopolitical scientist do you admire the most?
I do not admire anyone as such, but in my current research on state transformation I have found many contemporary texts extremely helpful. John Agnew, Stephen Gill and Leslie Sklair, for instance, have conceptualized transnationalism and the spread of neoliberal hegemony in a fruitful way, and I also find Bob Jessop's work on state transformation particularly useful.
Both transnationalism and spatial state theory literatures are important if one aims to conceptualize the changing natures of state competition and its spatial manifestations in state spaces.
What is your favourite geopolitical book?
I have a number of favourite books which I cannot evaluate against each other. However, my first "geopolitical book" that I read through was Peter J. Taylor's "The Way the Modern World Works: World Hegemony to World Impasse" and I really liked it even though I have never been engaged in world systems analysis as such.
What is your favourite geopolitical website?
I do like Theory Talks. It contains a number of very useful interviews with some of the leading scholars interested in the "international" (some geopolitics scholars included).
The geopolitical future
In what direction(s) will geopolitical science be heading the coming decades?
I hope that theoretical and methodological debates in the field of critical geopolitics continue also in the near future. During the following years, a number of new theorists will presumably be introduced as "geopolitical writers". This seems to be the way through which methodological "development" in geopolitical scholarship takes place.
When it comes to actual research topics, I hope both micro and macro topics continue to blossom. As geopolitics has historically been and still is closely associated with power politics at the "grand scale", the global power struggle between leading (and rising) states will attract a lot of attention. Issues such as climate change, regions such as the Arctic and institutions such as the EU are likely to receive increasing attention by geopolitics scholars.
Which geopolitical subject has been too little in the spotlight and needs further research?
This is a very personal opinion but I feel that state transformation and state transnationalization are – even though a bunch of interesting geographical works on the topic have already been published – an area that requires more attention in different geographical contexts.
The topic is of great importance given the sheer power of contemporary capitalism and different fractions of capital; these forces increasingly make the world politico-economically more alike. And yet the world remains differentiated geographically because these transnationalizing practices always take place in particular geographical settings. In my mind, geopolitics should make a strong return to the state and examine it from various perspectives.
What will be the largest geopolitical challenge for the world in the 21st century?
The interplay between contemporary capitalist globalization and the environment will remain one of the most pertinent geopolitical challenges in the 21st century.
Sami Moisio: Neoliberal hegemony, political economy, capitalism, world systems