Introducing Marietta König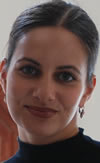 Marietta König (Berlin, 1979) has studied political science, intercultural business communication, slavistics and caucasiology. She has been a student at Friedrich-Schiller-University Jena (FSU), State University in Minsk, Institut d'Etudes Politiques de Paris and Tbilisi State University. In 2004, Ms König graduated from the FSU with a Masters' thesis about the OSCE Longterm Mission to Georgia's work in South Ossetia.
She is currently researcher and PhD candidate at the Center for OSCE-Research (CORE) at the Institute for Peace Research and Security Policy at the University of Hamburg (IFSH). Her PhD project is about the UNOMIG Mediation between Georgia and Abkhazia.
In this interview, Ms König gives her view on the achievements of president Saakashvili, the identity of the opposition and the nature of Georgia's political system. The other part is Marietta König: Georgia – Saakasvili, corruption and the opposition .
Interview
Which methods of conflict resolution do you consider most adequate to solve the conflict between Georgia and the break-away regions South Ossetia and Abkhazia?
First of all it is necessary to point out that Abkhazia and South Ossetia, though both in conflict with Georgia, are, due to their history hardly comparable with each other. However, recent events and explicitly Russia's de jure recognition of both entities provoke that both cases are hardly separable from each other anymore.
Furthermore it is necessary to stress that although Russia's move is considered a threat against Georgia's territorial integrity according to international law, it has not led to any international sanctions against Russia. Instead, the conflicts are for the time being considered as unsolvable, and Georgia's territorial integrity is permanently defected.
However, to positively elaborate on methods of conflict resolution, "common state" approaches (probably with different orientation for each case) might regain attraction. Their concept is based on the idea that all entities of a federal state have equal rights according to a joint constitution, which again considers different levels of autonomy depending on the necessities of each single entity.
With that, no side to the conflict would loose face, and it would enable mutual appreciation for the needs and sorrow of the other. This however requires a preceding of renewed confidence-building measures, including agreements on the non-resumption of hostilities and military actions.
How much influence do the UN and the OSCE have on the authorities of Georgia, South Ossetia and Abkhazia?
The influence of both, the UN in Abkhazia and the OSCE in South Ossetia, has always been rather limited due to their a priori recognition of Georgia's territorial integrity, which according to international interpretation includes Abkhazia and South Ossetia. This, however, has become less and less acceptable for the Abkhazian and South Ossetian authorities respectively.
Thus, the international influence in both de-facto states was limited to a rather functional level, particularly rehabilitation projects.
With Russia's recognition of Abkhazia and South Ossetia on 26 August 2008, both organizations have finally failed to effectively contribute to the solution of both conflicts: the OSCE Mission to Georgia is presently withdrawing, and the future of UNOMIG is equally vague.
What are the prospects of a mutually accepted agreement that would bring South Ossetia and Abkhazia back under de facto Georgia's sovereignty?
A future solution of the ethno-political conflicts in Georgia requires a broad mind for innovative approaches, and with that a renewed willingness for compromises. This is particularly necessary as the conflict resolution processes have been deadlocked since many years due to the contradictory positions and interests of the parties to the conflicts. This reorientation however, is a slow process which cannot be artificially accelerated.
The renegotiation of "common state" approaches might, in the long term, be a start to demonstrate mutual appreciation, and to escape the vicious circle of dependencies, which just has been further deepened with Russia's move of recognition.
What do you consider the most likely scenarios for the relationship between Georgia and Russia?
Unfortunately the most likely scenario for the relationship between Georgia and Russia is that a renewed dialogue between the present governments and particularly between the presidents M. Saakashvili and D. Medvedev has to be considered as very unlikely. Both have repeatedly stressed that they are no longer accepting the other as a partner for dialogue.
Thus, the mutual goal for the ongoing legislative period has to be to avoid any further escalations. The international actors are also in charge here to durably convince the parties to the conflict, that military action does not help to solve the conflict, but is rather counterproductive. This is particularly important to prevent that Georgia's persistence on its territorial sovereignty finally will not be self-destroying.
The resumption of a sincere dialogue, however, has to be the primary goal of any efforts to reactivate Georgian-Russian relations.
Marietta König: Georgia – Abkhazia, South Ossetia and conflict resolution